Pediatric Care in Aurora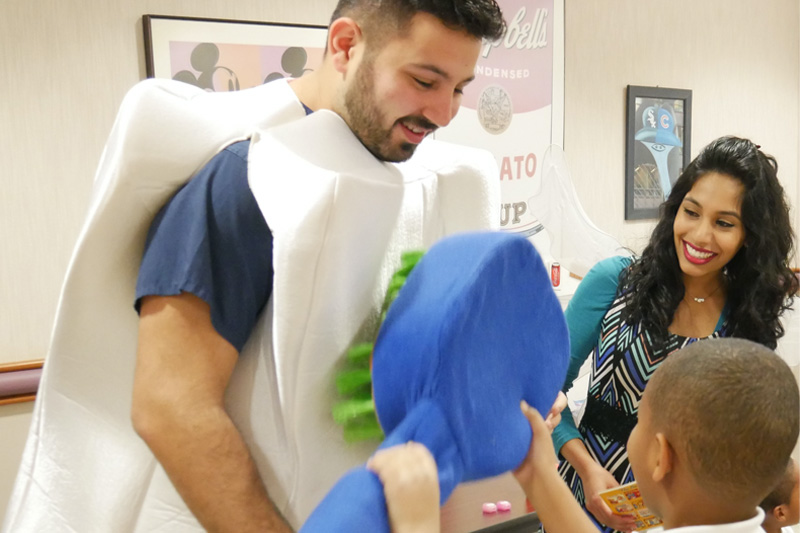 Our own Dr. Moein Azimi (dressed as Mr. Molar) providing oral hygiene instructions to pediatric patients at the University of Illinois at Chicago College of Dentistry
Healthy habits and good oral hygiene begin not during infancy, but while a mother is pregnant with her child. Whether you're nursing or bottle feeding, knowing the initial signs of oral hygiene issues is important in keeping your child healthy. The first dental visit for anybody should be an exciting and inviting one. The American Association of Pediatric Dentists recommends that the first visit for your child be made when your child is either 1 year of age or has their first primary tooth, whichever comes first. We are joyed by welcoming a new person into the office, and strive to make it as enjoyable as possible. We hold true to the idea that a patient's first dental experience shapes their behavior and attitude towards dental health as teenagers and adults. For this reason, we go above and beyond to make this experience memorable and positive. For our pediatric patients, we offer a variety of games and toys to keep them engaged and positive about their dental visits.
Some services we provide for our pediatric patients include:
Exams, cleanings, patient and parent oral hygiene education
Sealants - to prevent decay on young permanent teeth
Silver Diamine Fluoride (SDF)- to arrest decay and prevent early loss of baby teeth
Stainless Steel Crowns - to cover and protect damaged baby teeth
Space Maintainers - to prevent shifting of teeth when a baby tooth is lost early
Nutritional counseling for parents and children to prevent tooth decay from occurring
Screening for orthodontic treatment
Mild sedation with nitrous oxide available
We're Here to Help You
If you have any questions regarding the services we provide, please call our office at (630) 898-2688.